Pensacola RV Park offers visitors a tranquil and relaxed setting. There are no city or traffic noises to compete with the call of chirping birds or the sound of the wind rustling through the trees.
Big Rig Friendly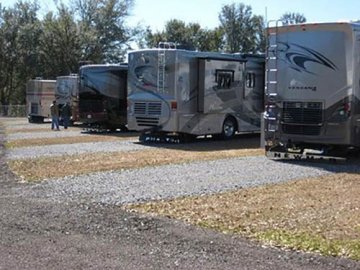 We offer easy access to and from the park and feature spacious, comfortable sites. Pensacola RV Park has 67 sites. Twenty-three are pull-through sites designed for extra large rigs.
We meet the latest ADA standards and all of our buildings and sites are handicap accessible.
Full Hookup ~ Water, Sewage, Electricity, Cable TV and WiFi
Our sites are spacious and clean. Each site features 30/50 amp electrical outlets and free cable TV hookup as well as WiFi (Wireless) Internet connection. WiFi is available throughout the park.
We are animal lovers and welcome your pet. Of course, we expect our visitors to follow established policies and to demonstrate consideration for others. Pets must be well behaved and under control at all times and they must be registered so please let us know if you plan to visit us with your pet.
A fully equipped kitchen may be reserved by our guests for group gatherings.
Laundromat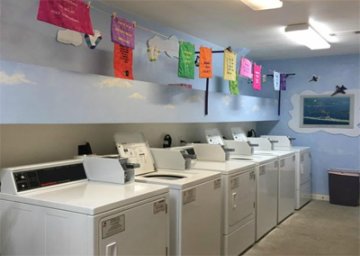 We have a handicap accessible coin-operated laundromat on the grounds.
To ensure that our guests' needs are promptly addressed we provide on-site management 24 hours a day.
The Pensacola area boasts a remarkable array of activities for your entertainment and relaxation. We are only 20 minutes from Pensacola Beach and some of the area's most popular attractions. Please visit our
Links
page for online resources and maps or come to the office for brochures and a list of some available activities for your consideration.